Useful information before your massage:
Before you book a time for a massage in the Tantra Temple:
If you are a woman, it is a good idea to reflect upon whether you wish to receive a massage from a man or a woman – if in doubt, you are always welcome to call the booking phone and inquire as to what the difference is. If you are a man, you will always receive massage from a woman.
Please remember to tell us whether you want to receive a massage in Copenhagen, Odense, or Aarhus – and it is a good idea to have your calendar ready so we can find an alternative time for you, if the time you request is not available. Our booking/office is open on weekdays between 10am-4pm, but the temples are open for massage from morning to evening all days. You can also call us outside our office hours, but then it will not always be possible for us to answer your call.
It is not possible to see pictures of our masseurs before you book a time for a massage – but all our masseurs are carefully selected, have good hearts, a long education in tantra and tantra massage, a harmonious appearance, and they all have the qualities we require in order to give tantra massage in the Tantra Temple. Furthermore, they are between 28 – 45 years of age. Remember always to book in advance if you wish to receive a massage – it is not possible to just turn up and have massage.
When you have booked a time in the Tantra Temple:
It is a good idea to make sure you have written down the time and address before the massage since our booking phone is only open on weekdays between 10am – 4pm, and therefore, we cannot always answer your call or questions outside of these hours.
Cancellation/no show policy: If you do not show up for the booked time for massage we will charge a fee of 350 kr per booked guest, to cover expenses, time spent and lost earnings. If you should wish to book another massage later, you will have to either pay a deposit of 350 kr per guest or the whole amount for the new massage beforehand, if you have previously not showed up for a massage. Cancellations later than 24 hours before a massage are regarded as a no show, unless you have another agreeement with us.
If you need to cancel your massage, always try to call us and if you cannot reach us, please mail us at info@tantra-temple.com.
Addresses: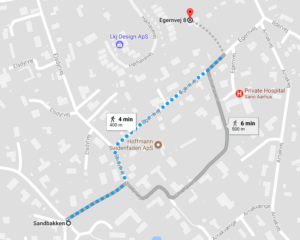 Aarhus: Egernvej 8, Højbjerg. The entrance is by the garage, take the path through the garden until you reach the house. You are welcome to park in our driveway if one of the two seats in front of our garage is available. If both seats are busy, you can park in the public car park at Sandbakken only 400 meters from the temple (see route description) or in the evening hours in the parking lot at the corner of Hørhavevej and Ørneredevej and walk up to our Tantra Temple. Unfortunately, it is not allowed to park along our hedge or on the road, as Egernvej is very narrow. For more info, see the image.
If you come by bus (bus number 18) from Aarhus C you only have a 4 minutes walk from the stop at Hørhavevej/Ildervej. If you are on a bike you can look forward for a beautiful ride on Strandvejen, past Dyrehaven and Ørnereden.
Odense: Skibhusvej 94, 2nd floor, and it says "Devadasi" on the entry phone.
Copenhagen: Egegårdsvej 57, 2610 Rødovre. You can park in front of the temple, and then you have to press the doorbell marked 'Reception' by the red door on the right – then you will enter the garden, and in there you should proceed straight ahead until you reach the little pond, where you turn left and enter through the glass door.
When you arrive for your massage in one of our Temples, we have a calculated enough time to talk before the massage, for the massage itself, and for a further talk afterwards. There is also time for you to take a shower before the massage.
We kindly request that you arrive at the time we have agreed on and not before, as we do not have a waiting room and it is not always possible for us to receive you before the agreed time, as our masseurs spend the time before the massage preparing themselves to give you the best possible massage.
It is not necessary for you to bring anything when you come for a massage – we have sheets, towels, and everything else needed. Please tell us, when you make a booking, if you have any allergies, in order for us to prepare the room according to your needs. We have candles in the massage room, and use either organic coconut oil or a specially mixed massage oil for the massage. We wash the sheets and towels with neutral/allergy friendly laundry soap – but if you have any problems with candles, scents/perfume or detergent, you are welcome to let us know when you book a massage, and we will find a solution suitable for you.
You can pay with Dankort, Visacard/Mastercard (minor fee) or cash in our Temple in Copenhagen, and in our Temples in Odense and Aarhus you can pay with cash. You are also welcome to pay with Mobile Pay to 77789 after the massage in all 3 temples, or by bank transfer to 2112-4379294095 or Mobile Pay before the massage – and then we ask you kindly to bring the receipt either printed or on the screen of your mobile phone.
If you pay by international bank transfer, please make sure to cover any fees that the bank may charge for such a transfer also.
You are welcome to take a shower after the massage, but we advise you to just wipe off the oil with a towel to allow the experience time to settle within your body, so to speak. Furthermore, the oil is very nourishing for your skin.
We advise you to carefully read our information about tantra massage for men, tantra massage for women, or tantra massage for couples, before you come for a massage in one of the Temples. You can see our FAQ to read the answers to the most common questions. You are also very welcome to write to us at info@tantra-temple.com or call us at (+45) 7199 1102 on weekdays between 10am – 4pm if you have any questions.
DISCLAIMER: Please notice that even though there are many beneficial and curative effects of a tantra massage within all aspects of life, a tantra massage cannot replace a medical treatment, and if you have physical or psychic problems we strongly recommend that you consult a doctor and follow his/her instructions. We also draw your attention to the fact that we cannot be held responsible if you choose not to consult a doctor or choose not to follow his/her instructions.
We are looking forward for seeing you for a wonderful massage in the Tantra Temple!