Tantra Massage for Women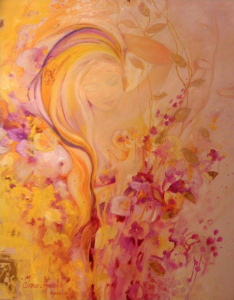 A tantra massage is like a journey into yourself, through your entire inner universe. Throughout that journey, the loving and conscious touch will help you connect with parts and aspects of yourself, which usually don't get much attention. You will get in touch with your full feminine potential, your feminine nature, sensuality, pleasure, and your ability to be ecstatic!
Tantra sees the woman as the one who leads the way through intimacy and sensuality because she, by nature, possesses a particular ability to unite sexuality, love, and spirituality. However, we live in a society where girls aren't educated on how to fully express their femininity. It can, therefore, be difficult for a girl/woman to feel and choose what is best for herself. It can be difficult to give in and surrender to sexual desire, pleasure, love, and intimacy, and to come forward in her full force, beauty, and sensuality. These limitations and blockages can be dissolved by the loving and conscious touch in the tantra massage. Once you experience who you truly are, you will find that limitations, pains, and tensions vanish from the mind, body and emotions. The journey into yourself will be like a guided tour into realizing the being that you are when you feel completely free and loved.
The first step to experience a tantra massage in the Tantra Temple is to book a time for the massage. When booking, you will be asked to choose a male or a female masseur. You are most welcome to ask us for advice in making that choice. On arrival at our beautiful Temple the masseur will welcome you. There is plenty of time to sit and talk before the massage in order for you to feel safe and familiar about the experience and with the masseur. Our masseurs are educated in listening and understanding your needs here and now. Once ready, you will have the chance to take a shower, in order to freshen up and ground into the body, with plenty of time on your own to undress and lie down comfortably before the masseur returns. You will be naked during the massage, and the masseur will be wearing briefs/panties.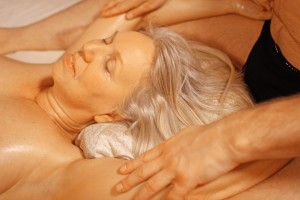 The massage will be adapted to your needs, in accordance with what the masseur senses that you need to awaken, even more, the amazing, beautiful, feminine, sensual, and eternal being that you are. The massage and touch will help
awaken your erotic energy and distribute it throughout your whole body. It will awaken your entire sensuality, helping you reach a peaceful state of mind and to surrender to the moment, pleasure, and love. It will also help you experience your endless ecstatic potential. You may experience many different reactions in your body, thoughts, and emotions during the massage. All reactions are equally welcome and you are free to ask questions or share what you feel along the way.
During the massage, it will be possible to receive a yoni massage (if you have chosen option 2 or 3). A yoni massage is a gentle and respectful massage of your yoni (vagina). In tantra, the yoni is seen as the source of all life and is revered with the utmost respect. The yoni massage can reawaken your connection with your deepest feminine core and have a tremendously healing effect on pains, tensions and problems, thus helping you feel more sexual desire, pleasure, and orgasm.
You will be asked during the massage if you wish to receive yoni massage (unless you chose option 1), and if you feel that you are not fully ready to receive a yoni massage, just let the masseur know and then you will receive more of the wonderful massage you already experienced. In this way you don't have to make up your mind before the massage, but can decide according to how you feel in the situation.
The yoni massage is an exceptional opportunity to experience a loving, healing, and respectful touch of your innermost being and to receive the love deep within – without having to give anything back, or do something in return, or to react in a certain manner. We provide the yoni massage with the heartfelt wish that you experience your inner sacred space (this is the meaning of the Sanskrit term 'yoni') in full love and consciousness, respectfully and according to what feels right for you.
Should you choose to receive a yoni massage, you will initially experience a gentle massage of the outer area of your yoni. The masseur, using his/her fingers lovingly and respectfully, will proceed to massage and touch of the inner part of your yoni if you feel ready and comfortable. There are no expectations for you to reach an orgasm or any other goals during the yoni massage. You are welcome to express any and all reactions, be they physical, emotional, or spiritual. Should you not wish to receive a yoni massage, you will simply receive more of the wonderful and attentive touching you have received so far. The masseur will keep on his/her g-string/shorts, and the full focus will be on your own experience of your own energy, inner world, sensuality, heart and feelings. The masseur is centered in providing the best possible and most loving frame for your own transformation, and in the heart.
When the massage is over, you will be offered some fruit and something to drink. You will have time to talk with the masseur, and to ask questions or share your experience before going out in the world with a new understanding and experience of the sensual, erotically alive, whole, beautiful, attractive, radiant, and amazing woman you truly are.
We look forward to meeting you and sharing our knowledge, wisdom, experience, and heart with you!
Tantra massage options
You can choose between 3 different options for your Tantra massage, and if you wish to receive from one masseur or two masseurs simultaneously (4-hand massage). Time seems to fly during a Tantra massage and often it will not be possible to prolong the massage during the experience itself. If you would like a longer massage than is offered in our list, you are welcome to contact us.
Option 1
This option includes a short preliminary talk, time for a shower, a Tantra massage, and a concluding talk – altogether 2 hours. Women should be aware that this option does not include time for yoni massage.
Option 2
This option includes a preliminary talk, time for a shower, a Tantra massage, and a concluding talk – altogether 2.5 hours. We recommend this option for those who would like to get deeper into the experience, with extra time to relax, open up, awaken the sensuality in the entire body, become conscious of the erotic energy and become aware of themselves and their heart. For female guests, this package also includes time for a yoni massage.
Option 3
This option includes a preliminary talk, time for a shower, a Tantra massage, and a concluding talk – altogether 3 hours. This option allows you to go even deeper into the experience of the Tantra massage with all the psychological and therapeutic aspects of the massage. This extra time is often necessary in order to be able to open up and work with blockages or challenges you might face in your life. In this option, we have time for a longer talk and to work with specific challenges you may encounter on your path through life. During the massage we can look into specific issues, like old traumas or wishes for a deeper spiritual connection to your soul or a deeper experience of your true nature. This option gives also you the opportunity to feel a more timeless exploration of sublime sensual pleasure, awakening of vitality in the entire body, and ecstatic inner joy that comes by getting in contact with your inner source of love. We recommend this option for both men and women that wish to have time for an even deeper experience and more time to receive guidance/coaching from the masseur. 
Add-ons
Let the effects of a tantra massage last longer, enhance your experience with a meditation, yogic relaxation or yoga nidra at the end of your massage. Our add ons are a way to help you guide the energies awakened through the tantra massage and to become more conscious of your inner state.
Meditation
Tantra teaches us that it is possible to use the erotic energy as source of energy for self-development. After the tantric massage, the erotic energy which is now awakened and distributed in the whole body, can be used to feed our aspiration to become an even better human being. With the Meditation Add On – we invite you to do a meditation to use the energy resulting of the massage, with the help of the masseur who is skilled in such practice and therefore can explain and support you in doing it. In this way you have an extraordinary opportunity to have a direct experience of conscious Tantric energy work. You can choose between 3 different experiences:
Awaken Your Heart – use the energy resulting from the massage to increase your capacity to love and feel compassion. The heart will bring you in contact with the guiding voice of your soul.
Mental Clarity – use the energy resulting from the massage to increase your awareness and gain more control over your mind, choosing your own thoughts.
Spiritual Awakening – use the energy resulting from the massage to expand your consciousness to merge with the universal consciousness, aiming to go beyond all the daily life concernes to the state of transcendence.
Length: 15 min.
Relaxation
The tantric teaching states that happiness is possible only on the background of relaxation. Many of us burdened by the stress full lifestyle in our era, can use a little help in going back to the  state of relaxation and reconnect to the state of happiness. The erotic tantric massage by itself is helping us to relax deeply, to come in the body and be present here in now, letting go of all worries and stress. Adding to the massage experience a guided session of the complete yogic relaxation, will help you to deepen this effect of the massage, allowing the erotic energies to empower the state of relaxation in your being.  In this way you have an extraordinary opportunity to have a direct experience of conscious Tantric energy work.
Length: 15 min.
Yoga Nidra
Yoga Nidra also known as the yogic conscious sleep is a technique of deep relaxation allowing us to go beyond our mind limitations and come in contact with the essence of our being. The effect of yoga Nidra is a deep state of relaxation, Regeneration on physical, psychic and mental  level leading to  state of peace and happiness. Practicing yoga Nidra after a massage session with the guidance of the masseur, will allow the awakened erotic energies, to be used to empower the state of relaxation and going beyond the mind, In this way you have an extraordinary opportunity to have a direct experience of conscious Tantric energy work.
Length: 30 min.