BOOK LAUNCH: LET'S TALK TANTRA
Ready for purchase on Amazon, Adlibris or Saxo.com
We are proud to present the English version of the book Let's Talk Tantra! In this book you will learn about tantra from a very practical perspective, but also from the perspective of the highest human potentials. The book is shaped as an interview with Ulrik Adinatha Lyshøj, leader of the Tantra Temple, taken by publisher Lotte Søs Farran-Lee, owner of Human Publishing.
Read more about Ulrik Adinatha's own experience in tantra, and enjoy reaping the fruits of his many years of tantric education, teaching, practice and life. You can find the book in Amazon, Adlibris or Saxo.com, both as e-book or physical book, and you can also buy the book in our Tantra Temples in Denmark.
Let's Talk Tantra – Book of Ulrik Adinatha Lyshøj
Ulrik Adinatha Lyshøj, tantra teacher, tantric practitioner and leader of the Tantra Temple, talks to Lotte Søs Farran-Lee, publisher, in this first book in the series 'Let's Talk'. The book offers an open conversation about tantra, and plenty of resources and inspiration for the daily life for both Tantrics and people who do not see themselves as Tantrics. The conversation covers the different core aspects of tantra, and how to reignite love, playfulness, attraction and communication with a partner – but also how to keep the flame alive. It describes the four cornerstones in tantra, as well as the chakra system, and how to work consciously with one's own energy. It also describes why love is both the foundation, the path and a magic tool of transformation in tantra. The book offers an insight into some of the more mystical aspects of tantra – and makes these aspects available for modern day people, in a immediately applicable way. Ulrik Adinatha and Lotte also talk about tantra massage and why it has become such a major life changer for so many people. The book will debunk some of the myths and misunderstandings, describing tantra as a genuine path to deeper self knowledge, more love and joy in life, and deep transformation.
You will learn about:
What is tantra?
What isn't tantra?
The misunderstandings and blurry areas around tantra
Sex, tantra sex and love making – which words do we use, and why?
Tantra massage
Tantric attitude, frame and so on…
The difference between an ordinary couple relationship and a tantric couple relationship
Man and woman in tantra
The holistic approach to the human being
The philosophy behind tantra
The book offers inspiration for both newbies in tantra as well as more experienced practitioners.
A piece of advice from the author: Start now, without hesitating!
"When you have read this book, you can say: "Well, that was interesting". But there are for sure also people who will feel inspired to take real action, move on, discover the tantric world even more… A thing that helped me tremendously was to follow a tantra class for several years where I learned how I could balance and harmonise my own energy and my own chakras, thus getting to know myself and my own energy much more intimately before I began working with the energy of others. And this made it possible for me to start this tantra education now, where you can learn to become a really good tantra masseur. But the first part of the education will be centered around your own journey, so you can cleanse yourself and balance your own energy before you start helping others… before you start working with other people.
And if I were to give a piece of advice, it would be: Start now, no hesitation! Choose the path that you feel is the right path for you, and then get moving. Begin doing this very intense work on yourself and your own development. The longer you wait, the more your patterns and habits will grow roots, and thus it will be more and more difficult to transform yourself, and to let go of all the things that are blocking your own personal development. So, find a path that you feel is right for you and get started right away!"
Why Let's Talk Tantra?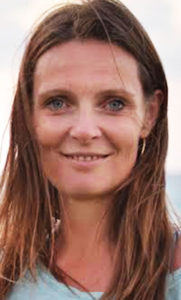 Lotte Søs Farran-Lee
"First and foremost I wish to create, from deep inside of my heart, and share what my heart is full of, with the world. When the series Let's Talk was ready to be created and the list of possible subjects was infinite… why did I then choose to start with tantra? Tantra has a very special place in my heart. It has helped me through a spontaneous and intense spiritual awakening, also named Kundalini.
Through the healing of the Kundalini, tantra crossed my path, and it became a long and beautiful journey leading back to myself. The tantric love, the love for myself, the love for others and for the world became the reason for this to become the first book. I wanted the world to see the depth of tantric philosophy and why tantra is much more than just good sex, as it is so often presented. It is also an often widely misunderstood subject and the interpretations of what tantra is are many; therefore I wanted to create a conversation where I knew that the deep roots of tantra and philosophy came to light in a simple and grounded way.
I have known Ulrik Adinatha for many years and choosing him for my interview, was a very easy choice. Ulrik has a deep-rooted understanding of tantra, and many years of practice. He has indeed shown to be an eligible contributor. The conversation flowed very easily and we feel confident that tantra has gotten its due space in a simple and respectful way. I'm delighted to share the first Let's Talk book with you.
Love,
Lotte Søs Farran-Lee
Author"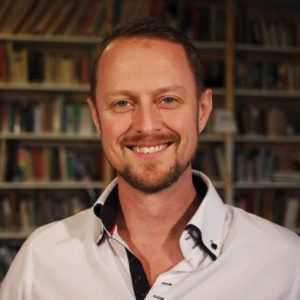 Ulrik Adinatha Lyshøj
Co-author, Tantra teacher, tantra masseur, leader and co-founder of the Tantra Temple in Denmark.
Ulrik Adinatha has since the year 2000 been on a very deep and honest journey exploring himself and tantra. He has a wish to help others on their spiritual journey and to show people the essence of tantra, to help them open their hearts and let love show the way. It was not an obvious choice for him to walk the tantric path, this farm boy who grew up in the countryside in a tranquil family setting. However, already at a very young age, a quest to become the perfect lover and the wish to be able to communicate and teach it to others appeared.
His quest to become the perfect lover led him into the tantric world – a world that fully embraced that quest. In the essence of tantra, he also found the possibility to raise sexuality to a completely different level through the heart. Along the way, he found that tantra had so much more to offer – the possibility to become a more whole person. Tantra is a practice of continuous transformation; everything he communicates in this book is an expression of the ideal human being that he aims to become.
Ulrik Adinatha embodies and passes on the tantric philosophy with great integrity in the tantric practice. It is his deepest wish that more and more people will discover the way to the love within themselves, and through that experience give more pure love to themselves, their loved ones and people in general by the tantric practice.
He is a pioneer in the tantric world in Denmark and is deeply anchored in the tantric philosophy and tantric practice. Ulrik Adinatha is passing his knowledge on through teaching, tantric massages, workshops, talks and his daily work as a leader of the Tantra Temple in Denmark.
One of our dear guests has written a review, which you can read below
"I was excited to read the book Let's Talk Tantra, for I have long been interested in tantra, and I hoped to learn more and to get an overview and a deeper understanding of tantra by reading the book.
I quickly grabbed the book with its mixture of narrative and deep insights and understandings. And I quickly realized that the author (Ulrik Adinatha Lyshøj) was a man with many years of personal practice and education behind, but also with the courage to point out what often goes wrong when it comes to tantra – and I was really glad to read about it, because I also had similar experiences in the Danish 'tantra jungle'. It was very liberating to see how he dares to speak honestly about 'trendy tantra' versus a deeper and truer form of tantra that allows for the transformation of one's life but also requires dedication and personal development. I know that if you want to change things you have to invest something, and in particular, of yourself, to dedicate yourself. This is something I could see in the book, and it reverberated in me.
It was liberating to read the systematic review of what makes tantra 'work'  and what is missing when one experiences the stopping of their own personal development process. It was exciting to read about how tantra can be used in general daily life and why it's not a 'faith' or a spiritual direction but a holistic science that allows us to awaken consciously our dormant potential. I had some 'aha!' experiences where I just thought 'there's a treasure chest in my own life that I have not opened yet'. A few times along the way I felt that the narrator just gave a key I had been missing in my own life.
The reading itself was an experience where I felt that I was not only inspired or that I agreed with or  liked what I read but where I also felt richer, more whole, more balanced … it was as though the book was speaking to my heart in a way I recognized and remembered. I found again my strength and my deepest longings and feelings …  as well as the ability to live more in accordance with the one I really am. It was a magical and very beautiful experience.
I recommend the book Let's Talk Tantra to anyone who is interested in a deeper and more effective tantric journey, but also to all those who are interested in personal development in general. One doesn't have to be a 'tantric' in order to find the golden grains and inspirations in this book .
I also recommend it to anyone who wants to experience a richer love and erotic life, whether they are single, in a relationship or both.
It felt as if the book spoke the language of my soul, and as if at the same time it also pointed out how I could make my soul's dreams come true in my everyday life.
A very beautiful and inspiring book. I'm already looking forward to reading it again!"
Anna-Maybritt Lamberth.
"Det bliver helt naturligt, at det er kærligheden, der forbinder og ikke bare lyst, når vi er sammen med et andet menneske. Det bliver kærligheden, der forbinder et menneske til et andet menneske. Et ønske fra sjæl til sjæl om at smelte sammen med en anden. Når vi kommer derfra, så har vi ikke bare en seksuel oplevelse, der er baseret på nydelse, friktion og orgasme. Så bliver det et tantrisk elskovsmøde, et møde mellem to, der ønsker at møde hinanden dybt på alle planer."
"Vi er alle guddommelige væsener, men nogle gange glemmer vi det i vores hverdag. Ved at indlede elskoven med dette perspektiv, så vil den stærke seksuelle energi give mere og mere næring til dette perspektiv. Så i stedet for at være en mand og en kvinde der har elskov, så bliver det gud og gudinde, Shiva og Shakti, bevidsthed og energi, der i deres ekstatiske sammensm eltning sammen skaber hele universet."
"Orgasmen er en fantastisk tilstand der bringer os ud over vores eget ego, vores egne selvbegrænsninger. Problemet er bare at de fleste mennesker aldrig opdager hvor gode og hvor mange orgasmer de rent faktisk kan få. Langt de fleste mænd er fastlåst i troen på at orgasme og udløsning er den samme ting, men det er det ikke. Manden kan lære at få mange orgasmer uden udløsning, at blive multiorgasmisk ligesom mange kvinder er det. Det kræver bare en del træning fra hans side. Og kvinden kan lære at få mange flere forskellige slags orgasmer; ikke bare en hurtig spændingsorgasme fra klitoris."