Contact us
Call us at (+45) 71991102 for booking of massages, questions, and sign ups for workshops.
Our receptionists will help you on weekdays from 10am-4pm. Notice: This number is NOT open for texts (sms). If you cannot call, please send us an email at info@tantra-temple.com and we will get back to you as soon as possible.
Outside the office hours you will be redirected to the local Temples. Feel free to call us also in evenings and weekends if you want a massage before the office/booking opens again. We may not always be able to take your call outside office hours, but you can leave a message, and we will call you back as soon as we can. We have Tantra Temples in Copenhagen, Odense and Aarhus – please remember to specify in which Temple you wish to receive your massage, when you make a booking for a massage.
The Tantra Temple is an international environment with both Danes and foreigners. It is not all of us that speak Danish, so if you want to be sure to meet a Danish-speaking masseuse, you should specify this when you make a booking.
For info about the Tantra Massage Education, please email us at education@tantra-temple.com or call 2195 9199. IMPORTANT: You CANNOT book a massage if you call/email this email and phone number.
Copenhagen
Egegårdsvej 57, 2610 Rødovre. You are welcome to contact the booking for more information about how to find the temple.
You can park in front of the temple, and when you arrive, please press the door bell by the red gate – then you will enter the garden area, and in there you will see a glass door that leads you to the reception area where your masseur will be waiting for you.
Aarhus
Egernvej 8, 8270 Højbjerg, Denmark.  If you come by bus (bus number 18) from Aarhus C you only have a 4 minutes walk from the stop at Hørhavevej/Ildervej. If you are on a bike you can look forward for a beautiful ride on Strandvejen, past Dyrehaven and Ørnereden. The entrance is by the garage, take the path through the garden until you reach the house. SCROLL DOWN FOR PARKING INFO!
You are welcome to park in our driveway if one of the two seats in front of our garage is available. If both seats are busy, you can park in the public car park at Sandbakken only 400 meters from the temple (see route description) or in the evening hours in the parking lot at the corner of Hørhavevej and Ørneredevej and walk up to our Tantra Temple. Unfortunately, it is not allowed to park along our hedge or on the road, as Egernvej is very narrow.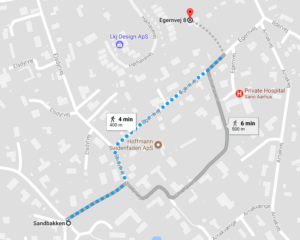 Odense
Skibhusvej 94, 2nd floor, 5000 Odense. Please press "Devadasi" on the entry phone. It is possible to park at Skibhusvej, on a side road, or the Kvickly parking lot. The Temple is situated approximately 15 minutes by foot from the Odense station square.