Nov 2017

04.11.2017, 10:00 - 16:00 - Tantra Temple
Workshop with Ananda and Adinatha Do you want more intimacy...
Read More
Workshop with Ananda and Adinatha
Do you want more intimacy and love in your life? How about longer lasting love-making? Do you want to bring more spirituality in your relationship? Considering our busy schedules and being on-the rush kind of life style, it is easy to get caught up in the swirl of daily to-do's and forget about our souls. And yet, the most fulfilling activities are the ones that keep us in touch with our heart and help our souls to evolve. And the best way for us to experience this is together with the one we love. There are several ways for you to get more in sync with each other, both sexually and emotionally! Temple Time for Lovers is a unique opportunity to explore yourself together with your beloved and learn how to connect from the heart on a daily basis.
Program:
Couple-yoga. Yoga exercises that bring harmony in your relationships.
Brunch
Tantric exercises designed to harmonize you with each other, sexually, emotionally and spiritually. The exercises take place with clothes on. Along the way, you have the opportunity to ask all your curious questions to an experienced tantric couple.
Due to the morning yoga, it is recommended that you do not eat before you arrive or at least to have a very light breakfast. Event is in English.
Price: 900kr / couple, including delicious vegetarian lunch
SIGN UP via BILLETTO here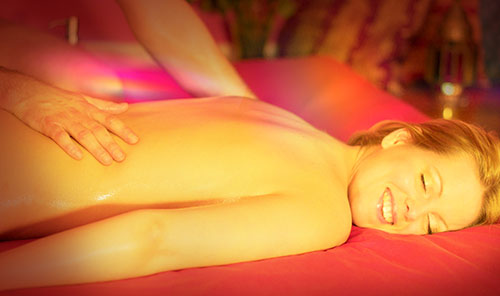 13.11.2017, 17:00 - 18:30 - Tantra Temple Copenhagen
Come and join us for the live demonstration, where you...
Read More
Come and join us for the live demonstration, where you get to learn the approach and attitude of a genuine tantra masseur, you will see a live demonstration of Tantra Massage and, if you are lucky and open for it, you may even have a direct experience of Tantra Massage on yourself.
Some of the topics we will touch upon:
• Why are people coming to Tantra Massage and what are the experiences and tools for inner growth that they receive here?
• How is the massage for women?
• How is the massage for men?
• How can tantric massage help us release issues and blockages, and take our potentials and strengths to heights we didn't imagine before?
• What does it take to become a genuine Tantra Masseur?
We at the Tantra Temple have chosen the tantric path as a way of life and each of us trains for many hours a day, practicing yoga, meditation, tantric techniques, and active love, in order to be ready and qualified to guide people with the transformation that they long for.
Free Event. Sign up still required, due to limited amount of places.
Sign up via Billetto